Step 1: Find an old quilt that has pretty fabric but is falling apart or stained in
some
many areas. Everyone has one of those, right? If not, you could find one at a garage sale, antique/vintage store, flea market, etc. You can get it pretty cheap because like I said, it can be falling apart and stained.
Step 2: Get out your Christmas cookie cutters (or use your
imagination
) and make a few patterns. Cut the shapes out of the quilt. You have just made
quilt cookies
and guess what? They are calorie and fat-free.
Whoo
hoo
!
Step 3: Find some pretty paper. It could be wrapping paper, scrapbook paper, etc. You could also use fabric! (I just thought of that. Dang it!) I had some small note cards with a pattern on the front and a solid on the back. They were perfect actually...
Step 4: Find some frames. I had these hidden away. They are scuffed up but I don't care. Once you are through with this project, no one will notice the frame. Go to the Dollar Store and get a couple if you can't find any at home. Make sure they are big enough for your cookies!
Step 5: Secure your paper to the backing of your frame, this way it will not move around. I laid the frame on top to make sure it was positioned the way I wanted.
Step 6: Hot glue your quilt cookie on there. Frame it up and you're done!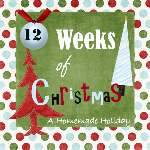 I am linking up Quilt Cookies at these inspiring blog parties: