What great fun it was to visit your blogs and read all of the Christmas Lists that were linked up this past week! We had lists about organization, our wildest wishes, our favorite things, our treasures, our hopes...it was a wonderful way to kick off the 12 Weeks of Christmas. I am so excited to see what the next 11 will bring! Apparently lots of folks like Christmas...

The Week 1 Giveaway is a decorative (hangs on the wall) clipboard. You can use it to let others know if you are feeling
or

You could hang something pretty from it...
or clip a note on it like this...



Congratulations, Annette! Email me keeliesue@live.com with your shipping info and I will get this to you asap.

FYI: If you left me a comment that you are a follower, I entered you in the drawing. If you linked up a post about Christmas List, I entered you in the drawing. If you did both, I entered you twice. (Yes,

LMM

, your "comment list" counted. THIS time;)
The giveaways are about to get really good. I mean REALLY good. People want to giveaway the most awesome stuff. Seriously. You do not want to miss a week!
Find out about Week 2 here.

Read about 12 Weeks of Christmas here!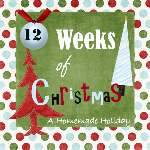 Clipboard Semi-Tutorial
If you want to make your own clipboard, it was pretty easy. I started with a cabinet door. (Mine was actually a handmade sign that I already owned). You could use any kind of scrap wood but the cabinet doors have built-in interest with the beveled edges, etc. Simply use craft paint and/or Modge Podge-d scrapbook paper to cover.
I used a clothes pin with a simple bow hot glued to it. I have seen all these cute ways of making fabric rosettes lately which made me think to sort of do that only with jute. I then glued the little swirl to the knot of the bow. I also glued some jute around one of the beveled edges.
Then I took two little wooden rectangles which were 47 cents each and sprayed them with chalkboard paint. I glued them back to back and added jute twine around the edge to finish it off.



I thought it could also be cute just to use one side and count down the days till Christmas. Sorry, that wasn't a very good tutorial...I need a tutorial on how to do a good tutorial.